The Mile: A goal race for turning 50, err 51
September 28, 2013
By Brenda Barrera
Last year I turned 50 years old and one of my running goals was to run a Mile race.
Why?
#1: I'm a fan of top U.S. women milers like Jenny Simpson, Mary Cain, Brenda Martinez and Alisa Harvey.
#2: In my 25-plus years of road racing, I've never run a Mile race.
#3: I wanted to support Ryan Lamppa who I think is doing a heckuva job with "Bring Back the Mile" and I mentioned of my promise to Ryan that I would run a Mile in my parting Editor's Note for Washington Running Report (now RunWashington).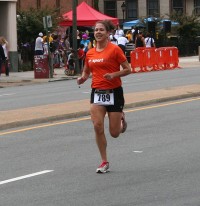 Brenda racing down Broad Street.
Well, I missed my goal by a year and I'm 51 now, but made good on that promise this past weekend at the inaugural VCU Broad Street Mile in Richmond, Virginia. More than 600 runners participated in 16 races with unique themes and charity partners that were held throughout the day. This inclusive festival format removed any intimidation factors.
I chose to join my friends from Sportable and run the "No Limits Mile" in support of adults and children with physical disabilities. Sportable is a Richmond non-profit organization that provides adaptive sport and recreation opportunities to individuals with physical disabilities. On a daily basis they break down barriers, "one sport at a time!"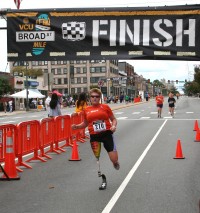 Robin Yoder at the finish line.
As the "No Limits Mile" participants gathered near the start line I met another participant, also 51. Robin Yoder, a cancer survivor, lost her right leg to the disease in 2010 and now runs with a prosthesis.
"It's been a long journey back," she said, recalling her days as an able-bodied triathlete. "But organizations like Sportable offer much appreciated support." While her swimming and biking were coming along, she was still working on her running. I found her can-do attitude refreshing and it was clear, she was still competitive.
Under an overcast sky at 1:30pm, I took off with the group of 28 and immediately two wheelchair competitors sped up Broad Street. I tried to keep the lead runner in sight. One woman passed me and I wanted to tuck in behind her but there was no gear. Nevertheless, I did not let that discourage me. Like everyone participating I was able and determined to hang on. Sure, I had more speed during my 20s and 30s when I regularly joined friends in Chicago for the "Wednesday night" track workouts with Coach Tom Brunick and Greg Domantay, but this is where I was on this specific day.
When I crossed the finish line and saw my time: 6 minutes, 57 seconds, I grinned – it surpassed my expectations! Earlier, I told my husband I was hoping to run a 7:30 or 8-minute Mile. What a blast to run all out, push myself and see how fast I could run this storied distance. I cheered on the other finishers including Yoder who clocked 11:20.
Sports transform lives in many ways and the Mile offers a unique experience, it's a benchmark distance and is do-able for all abilities.
Brenda Barrera is a writer who lives in Williamsburg, VA. She's working on a children's book about sports and plans to do another Mile race in 2014 to improve on her first official Mile time of 6:57.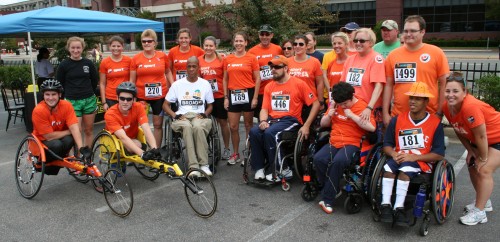 Photos by Sean Oatmeyer