The Mile will never lose its magic thanks to unique history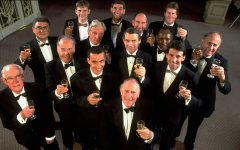 February 23, 2023
"No other event has produced an equivalent of the recognized, coveted and still strongly resonating sub-4 minute Mile standard in the sport, in the media and in the public's mind. Put simply, the Mile still matters."
By Duncan Mackay, insidethegames.biz
In 1994 I was lucky enough to be invited to a special black tie dinner at the Grosvenor House Hotel in London to celebrate the 40th anniversary of Sir Roger Bannister becoming the first runner to break 4 minutes for the Mile, an achievement which at the time was compared to conquering Mount Everest.
Joining the British legend, pictured bottom middle, at the exclusive event were some of the men who had followed him as the world record holder for the Mile.
They included John Landy, the Australian who broke Sir Roger's world record just 46 days after he set it.
Alongside him were New Zealand's Peter Snell, Tanzania's Filbert Bayi, Britain's Sebastian Coe and Steve Cram, the United States' Jim Ryun and Algeria's Noureddine Morceli, the current world record holder at the time.
Also on hand were New Zealand's John Walker, France's Michel Jazy and Britain's Derek Ibbotson.
I have been incredibly lucky enough to have met all 14 world record holders for the Mile, including Sir Roger, since he ran 3min 59.4sec at Iffley Road in Oxford on May 6 in 1954.
They all agree on one thing: that having at one point having run a Mile faster than anyone else before them, bestowed a special status.
"If it had been any other event, I don't think I'd be remembered now," Ibbotson, who ran 3:57.2 in 1957, told me that special night of celebration in London.
"I'd be lost."
Landy, who broke Sir Roger's record but lost to him shortly afterwards in the "Miracle Mile" at the 1954 British Empire Games in Vancouver, credits it for putting him on the path which saw him become the Governor of Victoria and the best-selling author of two natural history books.
"I was a loner, a shy young man," he said. "It opened me up to live a life I never thought I'd live."
Cram won the 1500 meters at the first World Athletics Championships at Helsinki in 1983 and a silver medal, behind Coe, at the following year's Olympic Games in Los Angeles.
But they are a mere footnote to what he achieved over a distance that has never appeared on the Olympic program and takes place over a unit of measurement most of the world does not even use.
"It becomes luggage permanently attached to your name," Cram said. "It matters not what else you do. You'll be introduced everywhere as world record holder in the Mile."
That night in London, like almost everyone else fortunate enough to be present, I scurried from table to table to get my program signed by as many of the world record holders as I could (now, of course, it would be having a selfie taken with them but this was in the days before smartphones).
I thought of that special evening this week when I read an article in Canadian Running, which asked the question, "Should sub-4 be no more?"
It had been prompted by events last weekend at an event staged at Boston University where 52 runners on one day had broken the 4 minute Mile. It took to 115 the total number of athletes already this year to have broken a barrier that was "once thought impossible if not fatal".
As recently as 2005, Forbes magazine named Sir Roger's historic sub-4 clocking the "Greatest Athletic Achievement of the past 150 years".
Advancement in shoe technology and the responsiveness of athletics tracks, the facility at Boston University likes to call itself "the fastest track in the world", has helped make something once thought impossible now positively mundane.
When Sir Roger achieved his historic performance, it was less than a year after Sir Edmund Hillary and Sherpa mountaineer Tenzing Norgay became the first climbers confirmed to have reached the summit of Mount Everest. By the end of last month, a total of 6,338 different people had reached the top of the earth's highest mountain. It may no longer be headline news when someone reaches the top, but it is still an incredible achievement beyond the imagination of only a very few.
It is the same with the Mile, but with even fewer recording a sub-4 time, 1,755 as of June 6, 2022.
Continue reading at: insidethegames.biz
Mile world record progression HERE.