The Reframed Mindset around the Sub-4 Mile for High School Boys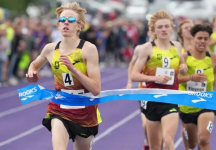 March 09, 2023
"I think the 4:00 barrier is still something special to accomplish. It's been such a benchmark in the world of distance running for such a long time, and even if more people are breaking it now, I still think it's special — maybe not to outsiders looking in, but to the individual, it's such an amazing accomplishment."
By Oliver Hinson, CitiusMag.com
Nothing lasts forever in track & field, but ever since Jim Ryun made history for high school runners in 1964, the sub-4 Mile's status as a barrier has consistently been the closest thing the sport has to stable. Why on earth would things be different now?
It takes a bit of history to understand.
As far as individual seasons go for high school athletes, few have received more publicity than that of Cooper Teare in his senior year. Coming into 2017 with a Mile PR of 4:06, Teare led a small contingent of elite athletes looking to become the next high school runner to crack the 4:00 barrier, and that "chase" arguably defined his season.
Throughout the spring, the future Oregon star achieved some of the best marks the sport has ever seen at a high school level, including four times under 4:03, but he never saw the elusive 3:59 — in fact, the only athlete that season who did was Teare's future teammate, Reed Brown, although Teare came oh so close, clocking 4:00.16 at the Mt. SAC Relays.
Teare's campaign arguably came to a head at one of the premier meets of the year, the Brooks PR Invitational in Seattle, Washington. Racing against some of the fastest high school athletes in the country including Casey Clinger, Sam Worley and Waleed Suliman, Teare seemed poised to get his mark, and that was arguably the most important thing on his mind. In an interview with Milesplit before the race, Teare said that his race wasn't "a race to win," but one to see who among them could break 4:00 (ultimately, no one did; Teare ran 4:02.56 and came in 2nd place).
Although such a sentiment seems contrary to the idea of racing in general, this approach was common in a time when the sub-4 Mile was still the holy grail of racing.
Six years after Teare, high school track is in an entirely different headspace, thanks in no small part to one of the craziest seasons the sport has ever seen. In 2022, five athletes ran 3:59 or faster. The previous record for the most sub-4s in a single U.S. prep season was just two, which itself was a more recent phenomenon, only being achieved in 2015 and 2016. Thanks to a variety of factors, the sub-4 Mile exploded last year, perhaps making it less revered.
From the first few months of 2023, it looks as if things will continue this way.
Of course, the first evidence of this comes in the form of Connor Burns (Southern Boone County HS, MO) and Simeon Birnbaum (Rapid City Stevens HS, SD). Both of them broke 4:00 as juniors last year, a feat not accomplished since legend Ryun did it in 1964, and Burns already clocked a 3:59.11 this year at the Boston University Last Chance Invitational on Feb. 26.
The circumstances surrounding these two make this season unique. Sub-4 has almost never been an expectation for a high school runner. But now it is for multiple, seemingly every year. It's only natural to question just how special the feat is today.
"People expect it and they probably expect a lot more, as I would myself," Birnbaum said.
Beyond the two future Oregon Ducks mentioned above, this year's group of sub-4 runners will almost certainly run deep. Just behind Burns is Rocky Hansen, the North Carolina cross country state champion and Wake Forest commit who boasts a 4:00.84 PR. Devan Kipyego (St. Raphael Academy, Rhode Island), who finished a few places behind Burns at Boston, sits at third in the US at 4:01.04.
Of course, Aaron Sahlman, the Gatorade National Player of the Year, has a great chance to break 4, as do his Newbury Park teammates, Lex & Leo Young. Also joining this group could be Kole Mathison (Carmel HS, IN), who won the Champs Sports National XC Championships in December, as well as runners like Clay Shively (Wichita Trinity Academy, KS), Marcus Reilly (Northbridge HS, MA), Hunter Jones (Benzie Central HS, MI), and Drew Griffith (Butler HS, PA). No matter the specifics, we are likely going to see a record number of sub-4 HS performances in 2023.
"I'd say at least double the guys that did it last year [will do it this year]," Jones said.
A talented crew like this would presumably create an amount of hype that the sport has never seen before. Just imagine a season where every major meet is likely to produce a sub-4 performance, if not multiple. But this is where the tension lies; if the 4 minute barrier can be breached so many times, how much of a barrier can it really be?
Even in the attention economy, value is determined for the most part by scarcity. The less scarce the sub-4 Mile becomes in high school, the less valuable it becomes.
"It used to be, if you broke 4 in high school, you were the guy," Burns said. "Now, it's becoming more of a requirement to be considered to be in the elite category."
It's not as if we haven't seen this before; the world rejoiced when Roger Bannister ran 3:59 for the first time, but now hundreds of athletes do this every year, and each performance receives a little less publicity.
"Once one person does it, the other people realize, 'I can do that too,'" Lex Young said. "It's really not as fast as you think it is. It's not as much of an achievement anymore; it's really just expected."
As the same shift happens at the high school level, the same effects will likely be realized. Take, for instance, the fact that CITIUS Mag is only producing celebratory graphics for three more high school runners who break 4. For decades, the sport has relied on the 4 barrier to determine who belongs in the pantheon of the all-time greats. What happens when that pantheon becomes too inclusive?
One thing is for sure: the 4:00 Mile is starting to look a lot more accessible to these athletes.
"I like to think of it this way: sub-4:00 is not a barrier at all," Hansen said. "If anything, it's a wall of wrapping paper."
Continue reading at: citiusmag.com
U.S. high school sub-4 history lists HERE.