The Time a Land Forgot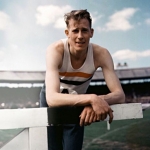 May 01, 2004
Was Roger Bannister the first man to run a Mile in under 4 minutes or was he just the first amateur?, asks one of Britain's top sports historians
By Peter Radford, The Observer
There were no celebrations on May 9, 1970 to mark the 200th anniversary of the first 4 minute Mile, and no tours were organized to visit the gates of Shoreditch Church in London, where James Parrott, a costermonger (street seller of fruit and vegetables), completed his measured Mile in 4 minutes.
He had started at the Charterhouse Wall in Goswell Road, crossed the road, turned right and then ran the length of Old Street for a wager of 15 guineas to five (£1,380 to £460 in 2004 values). Parrott had wagered that he would run inside 4 minutes, but the men with whips and poles who had been positioned to keep his way clear did such a good job, and the conditions were so near perfect, that as he sped along Old Street it was clear he would be well inside the target time.
But James Parrott appears in no history of athletics and he has never received any recognition from the myriad statisticians and enthusiasts of athletics facts and figures. The truth is that they don't believe it. Way back in 1770, runners must have been third-rate, mustn't they? And those who measured the distance, timed the event, recorded it and reported it to the newspapers, were all probably incompetent in doing their jobs, too, weren't they? An 18th century, 4 minute Mile, run by a man wearing snug-fitting, thin-leather lace-ups is not to be taken seriously. But the eighteenth-century, 4 minute Mile story does not end there.
Continue reading at: guardian.co.uk