McGee, Thompson Win Aetna Falmouth Elite Mile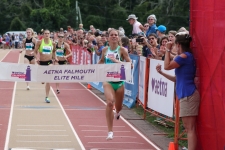 August 17, 2019
24th edition awards $16,000 prize purse; fourth stop on the BBTM Grand Prix Tour 2019 presented by Running Warehouse
By Barbara Huebner for Falmouth Road Race
FALMOUTH, Mass. – On a picture perfect Saturday evening on Cape Cod, Josh Thompson and Cory McGee kicked their way to victories in the Aetna Falmouth Elite Mile, held on the eve of the 47th New Balance Falmouth Road Race. Both Thompson and McGee used moves in the final lap to charge to the front and secure the $3500 first place prize.
At the 24th edition, McGee, a Team New Balance athlete training in Boulder, CO, sat patiently in fourth among the pack of seven women as they passed halfway in 2:18. Moving to the front was Katie Mackey, a three-time winner here who did her best to shake up the field before hitting the bell in 3:25.
McGee, 27, was the only competitor to immediately respond to Mackey's move, and the pair led down the backstretch on the final lap. With the roars of spectators growing at an impending duel, McGee drew even with 200 meters to go and never looked back. She'd break the tape going away in 4:29.51 to earn her first Aetna Falmouth Elite Mile crown.
"I'm so happy to be back in the Boston area," said McGee. "This race is really one of the most exciting Miles in the country. It has more history than a lot of the others and just has a really fun energy surrounding it with the [New Balance Falmouth] Road Race. I've been in the mix a few times but finally winning it is really fun!"
Heather Kampf passed Mackey in the final straight to take second, 4:31.24 to 4:31.69. Eleanor Fulton (4:32.39) and Dana Giordano (4:33.07) rounded out the top five.
McGee was happy to improve on her third place finish from a year ago, and has said she's been motivated to race fiercely after a disappointing experience at the USATF Outdoor Championships last month, where she was disqualified in her 1500 meter prelim. By running under 4:30, McGee picked up an additional $1000 in a winner's time bonus.
"I feel fit and it's fun to win!" she said. "I want to race a few more times [this season]. I know I worked really hard this year so I'm just doing what I worked for."
Thompson, 26, the men's champion, also made his bid for the win in the final lap, choosing to do so with 300 meters remaining. Up until that point, Maine native Riley Masters had done all of the pacing, taking the field through three-quarters in 3:00.
With each lap, Thompson's faith in his kick grew stronger. Masters and Craig Nowak were setting the tempo, and all Thompson had to do was decide when to move from third to first.
"I was feeling pretty confident," said Thompson, giving credit to Masters and Nowak. "When the last lap came I knew I was going to wait until 300 meters just to be safe."
As Thompson moved into first, David Ribich slipped into second and the pair put three meters on the field. Bearing down and opening his stride around the bend, Thompson held off the former Division II standout, 3:58.39 to 3:59.78.
"It means a lot. It gets my confidence up," said Thompson of the victory, his first win on the BBTM GP Tour. "I've struggled in the past [with injuries], and to come here and win this race, I mean, Falmouth put on a great race. This is pretty cool – I've never been in this type of an environment. So to just come out here, winning, it's just another step for me in training and my confidence level."
Tripp Hurt was third in 4:00.57, followed by BBTM Grand Prix Tour defending men's champion Daniel Herrera in 4:00.86.
The Falmouth Elite Mile was also the 4th stop on the BBTM Grand Prix Tour 2019 presented by Running Warehouse, featuring 5 top U.S. events and offering more than $110,000 in guaranteed prize money. After 4 races, Hurt and Kampf sit atop the Tour standings with 24 and 26 points each. The Tour 2019 finale is The Navy Mile on Sunday morning, October 6 in Washington, DC.
24th Aetna Falmouth Elite Mile
BBTM Grand Prix Tour 2019 presented by Running Warehouse, 4th stop
Falmouth, MA, Saturday evening, August 17, 2019
MEN
1) Josh Thompson, Portland, OR, 3:58.39, $3500
2) David Ribich, Seattle, WA, 3:59.78, $2000
3) Tripp Hurt, Boulder, CO, 4:00.57, $1250
4) Daniel Herrera, New Orleans, LA, 4:00.86, $750
5) Patrick Joseph, Boulder, CO, 4:01.12
6) Craig Nowak, Greenville, SC, 4:01.88
7) Riley Masters, Boulder, CO, 4:02.46
8) Patrick Casey, Flagstaff, AZ, 4:07.42
9) Garrett O'Toole, Weston, MA, 4:10.30
WOMEN
1) Cory McGee, Boulder, CO, 4:29.51, $4500*
2) Heather Kampf, Minneapolis, MN, 4:31.24, $2000
3) Katie Mackey, Seattle, WA, 4:31.69, $1250
4) Eleanor Fulton, Portland, OR, 4:32.39, $750
5) Dana Giordano, Boston, MA, 4:33.07
6) Allie Buchalski, Seattle, WA, 4:37.22
7) Lianne Farber, Boston, MA, 4:43.33
*include $1000 sub-4:30 bonus