Throwback Thursday: Sheila Reid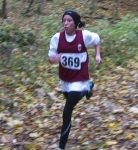 October 24, 2013
The Canadian standout and 2013 NYRR Wanamaker Mile champion explains why getting to college was easier after the club experience north of the border.
By Liam Boylan-Pett from Running Times
Who: Sheila Reid
High School: Sacred Heart Catholic High School, Newmarket, Ontario, Class of 2007

Club Team: Newmarket Huskies
HS Personal Records:
 
 

800m: 2:08
 

1500m: 4:34

3000m: 10:07 (indoors)
5000m XC: 17:04 

Current PRs:
 

1500m: 4:02.96

Mile: 4:27.02 (indoors)
3000m: 8:44.02
5000m: 15:23.64
Sheila Reid hails from Canada, where for teenagers, club teams are the main focus of competition. She ran for the Newmarket Huskies and also for her high school, Sacred Heart in Newmarket, Ontario, about 30 miles north of Toronto. Reid was captain of her high school team.
One day, she thought it was a good idea to cut through the school and wait around a corner to goof off instead of going for the coach's prescribed run. There was only one problem with Reid's plan: "Coach beat us to the punch and was waiting for us when we came through the other side of the school," she says. "We got reamed out pretty good."
Continue reading at: www.runningtimes.com