Tuohy breaks girls U.S. high school Mile record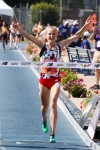 June 17, 2018
"I can't even begin to think what she'd run if it were a race and perfect conditions. If she had people with her and it was 75 degrees, God knows how fast she could run."
By Nancy Haggerty, Rockland / Westchester Journal News
She ran like she knew she could.
And like every track fan in the country has come to know she can.
In the process, a 36-year-old U.S. record fell.
Katelyn Tuohy capped a remarkable year of high school running Sunday by clocking the fastest outdoor Mile ever by an American high school girl and the fastest Mile in a high school-only competition for girls.
Competing at the New Balance Outdoor Nationals Track & Field championships in Greensboro, North Carolina, the North Rockland sophomore distanced herself from the field, crossing the finish in 4:33.87.
That was more than 15 seconds faster than runner-up Grace Connolly of Natick, Massachusetts.
Much more important, Tuohy's time was 1.37 seconds faster than the previous U.S. record set in 1982 by California's Polly Plumer.
The 2017-18 school year has elevated Tuohy to heights few runners reach.
Continue reading at: lohud.com