USATF 1 Mile Road Championships return to Grand Blue Mile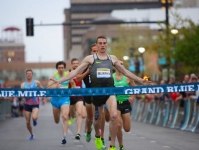 April 04, 2022
Three past national champions, Clayton Murphy, Emily Lipari & Katie Follet, are early entrants; $25,000 national championships prize purse available
From Grand Blue Mile
DES MOINES - Grand Blue Mile officials from Wellmark Blue Cross® and Blue Shield® and Drake Relays presented by Xtream powered by Mediacom have announced the USA Track & Field (USATF) 1 Mile Road Championships presented by Toyota® will be returning in 2022 as part of the annual Grand Blue Mile presented by Wellmark on Tuesday, April 26. The addition of the prestigious USATF 1 Mile Road Championships elevates the elite-level competition of the Grand Blue Mile and is expected to attract Olympians and world championship participants from across the country to vie for a national title and share of the $25,000 prize purse.
The Grand Blue Mile, a BBTM Featured Event, also hosted the 2013-14, 2017-21 national championships, and Des Moines is the host city for the championships through 2023.
"Hosting these championships has become a special part of the Grand Blue Mile tradition and a unique opportunity to share the road with some truly inspiring athletes — whether that's running to set a new personal best time or simply enjoying a walk with your family," said Chris Verlengia, Wellmark's marketing activation and alliance lead and Grand Blue Mile co-race director. "With so much to see and do, there's something for everyone at the Grand Blue Mile, and we're grateful USATF continues to support our vision for the event."
Early entrants for 2022 USATF 1 Mile Road Championships at Grand Blue Mile include:
►Clayton Murphy, Rio Olympic bronze medalist, 2017 GBM Champion & course record holder
►Shane Streich, American record holder indoor 1000 meters
►Emily Lipari, 2018 GBM Champion and 2020 USATF 1 Mile Champion
►Katie Follett, 2017 GBM Champion
"The USATF 1 Mile Road Championships in partnership with the Grand Blue Mile are truly a premier event," said Blake Boldon, the Franklin P. Johnson Director of the Drake Relays. "I am proud that our team has brought such an elite championship to Des Moines for the sixth consecutive year - eight total. Central Iowa is the perfect host for amazing athletes, families, friends and Milers."
The 2021 event took place on April 20 during the Drake Relays at Drake University. Eric Avila won the men's championship, clocking 3:59.0, the second-fastest time in the event's history. The women's crown was captured by Rachel Schneider with a time of 4:30.3.
Still time to register
Join the fun and register for the 2022 Grand Blue Mile at grandbluemile.com, then participate in the setting that suits you best — either in-person or virtually. Registration is $15 for youth and $20 for adults. As part of Wellmark's commitment to improving the health of Iowans, all proceeds benefit Iowa Kidstrong youth fitness programs and support student participation in the annual Drake Relays.