Villanova's Jordan Williamsz outkicks Edward Cheserek to win the Penn Relays 4xMile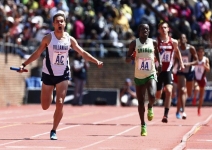 April 26, 2015
Race tactics result in sit-and-kick race to help Nova take home the Penn Wheel
By Ken Goe, The Oregonian
Jordan Williamsz caught Oregon's kicking Edward Cheserek coming off the final turn of the men's college 4xMile Saturday at Franklin Field, and pulled away to give Villanova the victory at the Penn Relays in Philadelphia.
Villanova won in 16 minutes, 18.07 seconds. The Oregon team of Daniel Winn, Johnny Gregorek, Will Geoghegan and Cheserek was second in 16:18.93.
Cheserek led for much of the anchor leg, although he clearly didn't like it. He slowed the pace to a jog, and moved off the rail, inviting someone else to lead. Nobody else would.
Continue reading at: www.oregonlive.com