Ciattei Defends Title, Hiltz Wins Fleet Feet Liberty Mile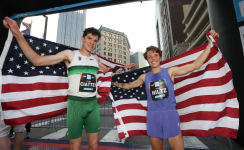 July 22, 2022
Downtown Pittsburgh's only evening road race draws more than 1,000 participants and awards $27,600 in prize money
From P3R
PITTSBURGH – At the 11th Fleet Feet Liberty Mile on a warm Friday evening in downtown Pittsburgh, the pro races ended in two thrilling finishes as Vincent Ciattei of Eugene, OR and Nikki Hiltz of Flagstaff, AZ put on closing bursts to edge their respective fields, clocking 4 minutes, 4 seconds and 4:28, respectively.
More than 1,000 participated in the 11th family-friendly "pop-up" running event. After crossing the finish line, runners stayed to cheer on the athletes in the Pro Miles presented by Fleet Feet Pittsburgh, and the fun continued at the official after party at The Yard with a complimentary I.C. Light, courtesy of Pittsburgh Brewing Company for participants 21 & over.
Daniel Michalski, Clayton Murphy, Willy Fink and Waleed Suliman took an early lead in the Men's Pro Mile. As the pack made the turn onto Liberty Avenue, Ben Blankenship made his move and surged to take the lead with Ciattei close behind. Ciattei, 27, used a final burst of speed to break the finish line tape to defend his title (4:04). In a close finish, Blankenship, a two-time race champion (2016-17), finished runner-up in 4:04 and Kasey Knevelbaard took third, also in 4:04.
"I just wanted to stay in front and respond to the moves that other people made, and I was able to do that and stay in control the whole time," Ciattei said. "I felt strong here at the end, and I felt it could take me all the way to finish. I had some space to celebrate my second win in a row."
The pro women went out quickly in the first half with Heather MacLean, Allie Wilson and Hiltz leading the pack. Emily Lipari made a move at the halfway point with MacLean right behind. In the final stretch, the top women regrouped before Hiltz, 27, made a final hard push to break the tape in 4:28, the event's second fastest woman all-time. Lipari, a two-time race champion (2017, 2019), finished right behind in 4:28 with MacLean third in 4:31.
"It was so loud in the chute that I couldn't even hear any footsteps, but I know there are some kickers in this race," Hiltz said.
Ciattei and Hiltz earned $5000 as the 2022 Fleet Feet Liberty Mile champions.
Pittsburgers Nick Wolk, 24, and Mikayla Schneider, 24, won the Unstoppable Heat with times of 4:17 and 5:00, respectively. Each earned $500 and a spot in the 2023 Fleet Feet Liberty Mile Pro Mile Heats. The Masters champions, 40 & older, were Sean Battis, 40, of Pittsburgh, and Andrea Pomaranski, 40, of Wolverine Lake, MI, in 4:41 and 4:47, respectively; each took home a $500 prize.
Liam Harvey, 18, of New York City and Elisabeth Franczyk, 16, of Washington, PA were the champions of the first-ever 4RUN2 heat, which gave competitive runners ages 14-19 an opportunity to compete in a heat of their own. They finished in 4:36 and 5:48, respectively.
The Fleet Feet Liberty Mile, downtown Pittsburgh's only evening road race, has been repeatedly named "one of America's most iconic races" by Runner's World. The event showcased a variety of fitness levels, from first-time runners to some of America's fastest athletes, including U.S. Olympians and national champions.
The Fleet Feet Liberty Mile Elite Running Derby returned for the second year in a row, and all participants, including Virtual Heat runners, were randomly assigned one of the participating elites. Runners who were assigned Pro Heat champions Ciattei or Hiltz this year received a Brooks Running hat as a prize.
11th Fleet Feet Liberty Mile
Pittsburgh, PA, Friday evening, July 22, 2022
MEN
1) Vincent Ciattei (OR), 4:04, $5000
2) Ben Blankenship (OR), 4:04, $3000
3) Kasey Knevelbaard (AZ), 4:04, $2000
4) Daniel Michalski (CO), 4:04, $1000
5) Willy Fink (MD), 4:05, $500
6) Clayton Murphy (OH), 4:08
7) Jackson Mestler (OR), 4:08
8) Waleed Suliman (WA), 4:09
WOMEN
1) Nikki Hiltz (AZ), 4:28, $5000
2) Emily Lipari (CT), 4:28, $3000
3) Heather MacLean (MA), 4:31, $2000
4) Allie Wilson (GA), 4:31, $1000
5) Hanna Green (OR), 4:36, $500
6) Ella Donaghu (OR), 4:37
7) Sadi Henderson (GA), 4:40
8) Katie Rainsberger, CO), 4:42
9) Lauren Johnson (IN), 4:42
10) Carmen Graves (CO), 4:47
For complete results and more, go to: LibertyMile.org
CREDIT: Chuck LeClaire