Volunteer Track Classic Embraces Running a Mile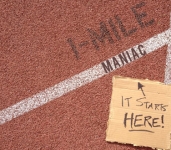 April 19, 2012
By Dave Link, Knoxville News Sentinel
There was a time when the mile run was the signature event in track and field meets in the United States and around the world.
It may have reached a peak on May 16, 1971, when Jim Ryun and Marty Liquori were paired against each other in the first "Dream Mile" in Philadelphia, which was won by Liquori by a fraction of a second.
Over the years, the mile run has lost much of its luster. It has been replaced in high school track by the 1,600-meter run.
"The problem is that in the United States, except for Massachusetts, high schoolers do not run the mile," said Dave Monico of Santa Barbara, Calif., who leads a push to bring back the mile run. "They run, for many of them, the 1,600 meters, which is 9 meters short of a mile. That is something that is not only very confusing to everyone, but it is also a distance that is not recognized internationally, whereas the mile still is recognized internationally."
Continue reading at KnoxNews.com