Who's Better, Drew Hunter or Michael Slagowski?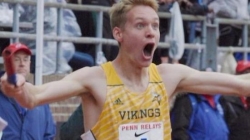 May 05, 2016
Hunter would have a big edge in a pro race, and Slagowski would have a better shot in a "Teens Night at the Club" high school-only race.
By Johanna Gretschel and Dennis Young, FloTrack
After Drew Hunter and Michael Slagowski ran epic Miles on opposite ends of the U.S. this weekend, MileSplit's Jojo Gretschel and Dennis Young got into an argument about who would win a race between the two.
Dennis: Jojo, we just spent 10 months hyping up Drew Hunter; I wrote an article this winter (correctly) saying he could be the best prep runner since Alan Webb. And now there's someone his own age who might be better. What a time to be alive! Michael Slagowski broke 4:00 on a cool day in Portland, with an incompetent rabbit -- the poor kid physically knocked someone out of the race -- while Drew's sub-4s were in pro fields on a blazing-fast Armory track with no wind. Could Slagowski beat Hunter in a Mile? (By the way, 1K and down I'm taking Slagowski, 2K and up I'm taking Hunter).
Jojo: Dennis, Slagowski could beat Hunter in a Mile. He ran 1:48.7 for 800m in a solo effort, nearly six seconds ahead of the next finisher. His open 400m best is 49.04, though he says he has split 48-mid on a relay.
Meanwhile, Drew's open 800m best is 1:52. Our database does not list an open 400m time, but I don't believe he has ever broken 50 seconds.
Mile races always come down to who has the best kick, and I think Slagowski has it.
Dennis: Slagowski is a beast, and we should be careful with ascribing special powers to Drew just because he's a first-name-only-level athlete. I also think Slagowski could beat a runner of Drew's caliber in the Mile, but not Drew himself. Many athletes of Drew's quality who are so much better than their peers fail to develop skills they'll need when they get better peers. For example, some of the best players in the NBA still can't shoot with their weak hand because their strong hand is so freaking good that over the course of their careers they've never needed to develop an alternative.
That goes for runners, too. When you're much better than your peers, the toolbox tends to be a little incomplete -- Edward Cheserek losing to Jordy Williamsz at Penn last year is not a bad example of this. Ches is the best at so many things, but not the best in a dead-flat 100 sprint -- and he's never had to develop his tactics or speed to account for that.
Hunter, on the other hand, is the most tactically astute teenage boy I've ever seen run. I think that Slagowski would have at least a coin flip's chance -- if not better -- against Hunter in a race that went through 1400 meters north of 3:30. As we saw on Friday, Hunter's kick is roughly on par with Jack Salisbury's (Obviously, Drew went out harder than Salisbury in that race, but still)! I think Hunter's tactical prowess and aerobic strength are such that he would break Slagowski with a long, searing grind with 600m or more to go.
Do you think Slagowski could beat Hunter in a fast, grinding race? Am I giving Drew unfair credit because he's more famous?
Jojo: I think it depends where they meet.
If both runners are invited to race the Mile at the Pre Classic -- the elite men's Mile, not the high school boys Mile -- then Hunter has the edge.
Continue reading at: flotrack.org