World Champ Jenny Simpson Returns to College Coach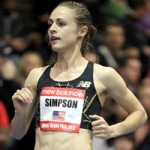 December 12, 2012
2011 world title was followed by relatively disappointing Olympic year.
By Peter Gambaccini, Runner's World
Jenny Simpson, whose 1500 meter world championship in 2011 was followed by a relatively disappointing 2012 track season, has left Colorado Springs, where she was coached by Juli Benson, and returned to Boulder, where she will be reunited with Mark Wetmore and Heather Burroughs, who coached her at the University of Colorado and in the early stages of her pro career.
Simpson won her world championship with a stretch drive that propelled her past the race's early leaders. That kind of finishing kick, characteristic of Simpson in years past, was rarely in evidence in 2012, when she placed third in the 1500 at the U.S. Olympic Trials but did not make the Olympic final in London.
Continue reading at: runnersworld.com