Yomif Kejelcha eyes indoor world record at Wanamaker Mile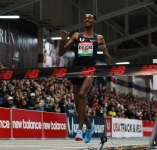 February 08, 2019
The Ethiopian is a stud and his races so far this year point to something special at the Millrose Games
By LetsRun.com
We've already spent 2,000 words previewing the distance action at the 2019 NYRR Millrose Games, but the final event of the night deserves its own article. Sound the alarm and tell your friends because we've got a WORLD RECORD ATTEMPT in the men's Mile.
We are aware that two world records went down at Millrose last year, but let's be real. Do you even remember which events they came in?
The Mile isn't some indoor-specific event where only die-hard track fans know what constitutes a good time. Anyone remember what Shaunae Miller-Uibo ran in the 300 last year (yes, she broke — well, actually, tied — one of those world records)? Is 33 seconds a good time for an indoor women's 300? 34? 36?
No, this is the Wanamaker Mile, the crown jewel event of the crown jewel meet of the U.S. indoor track & field circuit. And those distinctions may not mean as much as they did 30 years ago, but if someone breaks the world record in the Mile — even if it is indoors — you're going to hear about it. Particularly when the race is broadcast live on NBC on a Saturday evening.
The indoor record currently stands at 3:48.45, set by Morocco's Hicham El Guerrouj in Ghent, Belgium, on February 12, 1997. Ethiopian Yomif Kejelcha is the man targeting it, and unlike some of the other races on the Millrose schedule, there's no doubt that this is an all-out assault on the world record; last week, Kejelcha's training group, the Nike Oregon Project, produced a 100-second video specifically announcing Kejelcha's intentions to break the record.
Can he do it?
Kejelcha is not a Miler by trade. His specialty is the 3000 meters (where he's won the last two World Indoor titles) and the 5000m (where he ran 12:46 last summer to move to #7 on the world all-time list, just .26 behind a guy named Eliud Kipchoge).
Yes, there are pure Milers like El Guerrouj and Noureddine Morceli. But Edward Cheserek? Even after he ran 3:49 last year, he said he still didn't consider himself a Miler. We could use many words to describe Galen Rupp, but "Miler" is not one of them.
The point: if Cheserek and Rupp can run 3:49 and 3:50 indoors, there's no reason Kejelcha can't. He's run faster for 3000m (7:28) and 5000m (12:46) than either of those two men, and has already shown this year that he's got serious wheels, taking down Rio Olympic 800m bronze medalist Clayton Murphy in a 1000m in January.
Continue reading at: letsrun.com