Brenda Martinez Aims to Prevent an Ethiopian-Born Sweep at 2016 World Indoors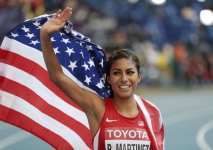 March 18, 2016
After Brenda Martinez qualified for Worlds last week by earning her first national title, she shared some optimism for the upcoming meet.
By LetsRun.com
For the first time in 29 years, the U.S. will play host to the IAAF World Indoor Track & Field Championships. Portland, Oregon will be the site as the world's top athletes head to the Pacific Northwest for the four-day meet which begins on Thursday. LetsRun.com is in Portland all week and we'll have tons of on-site coverage for you to digest. We'll kick things off by previewing the mid-d/distance events — here's a look at the women's 1500. You can find all of our Worlds coverage in our special Worlds section here.
What: 2016 IAAF World Indoor Championships
When: March 17-20, 2016
Where: Oregon Convention Center, Portland, Oregon
Prize Money: A total of US$2,464,000 is on offer from the IAAF. There is also a US$50,000 bonus for any athlete setting a world record during the four-day championships.
Individual events (total US$ 2,288,000)
1st US$40,000
2nd US$20,000
3rd US$10,000
4th US$8000
5th US$6000
6th US$4000
Relays per team (total US$176,000)
1st US$40,000
2nd US$20,000
3rd US$10,000
4th US$8000
5th US$6000
6th US$4000
Schedule * Entries * TV/streaming information * http://www.letsrun.com/events/2016-iaaf-world-indoor-championships-2/All LRC coverage
Women's 1500 (prelims Friday, 4:35pm ET; final Saturday 10:18pm ET)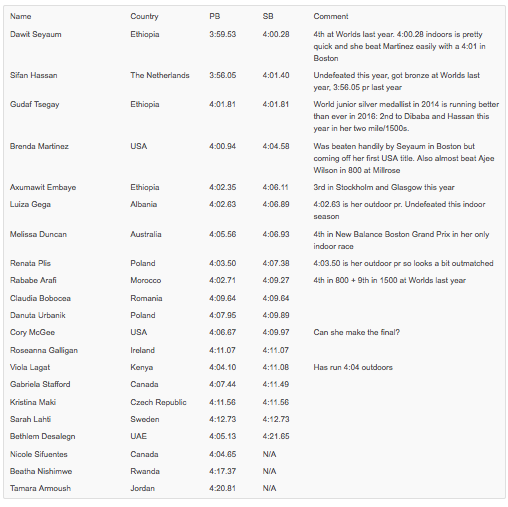 Continue reading at: www.letsrun.com