3 Tips for Racing a Mile from Heather Kampf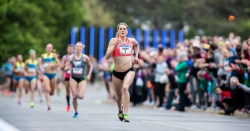 April 09, 2017
Queen of the Road Mile shares her wisdom and training advice
By Nathan Freeburg, Minneapolis Running
It all starts with one Mile! Heather Kampf is a decorated runner with a hard-to-believe 24 road Mile wins since 2011 as well the defending Medtronic TC 1 Mile champion. Recently, we sat down for a video chat to talk all things running, goal-setting pointers, plus tips for racing a Mile.
Heather runs and trains with Team USA Minnesota, the professional distance training program. The three-peat Bring Back the Mile Grand Prix Tour champion is also sponsored by ASICS and Nuun Hydration. Heather also works part-time at Mill City Running, a fantastic running specialty shop in Minneapolis.
Heather holds numerous records and accolades and was a nine-time All-American at the University of Minnesota, where she was the highest decorated Gopher women's track athlete. Heather is also a 4-time USA 1 Mile Road champion (2012, 2014-16).
Heather is also incredibly positive, as you'll see in the recording. Every time we talk, she has a way of seeing the bright side of any situation.
Continue reading at: www.minneapolisrunning.com