50 Years Later: 10 Questions with Jim Ryun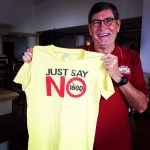 May 22, 2014
I support Bring Back the Mile...if you want to keep the public involved, you have to have something they can relate to.
By Caitlyn Pilkington, Competitor.com
On June 5, 1964, Wichita High School East junior Jim Ryun ran one Mile around the track in 3 minutes and 59 seconds at the Compton Relays in San Diego, the first time a high school boy in the United States slipped under the magical 4-minute barrier. What was once assumed humanly impossible—proven incorrect by Sir Roger Bannister's 3:59.4 Mile performance at Iffley Road Track in Oxford, England 10 years prior—was suddenly the new, attainable standard of excellence among high school Milers. And 50 years later, only four other high school boys run alongside Ryun as part of the sub-4:00 U.S. high school Mile club.
We caught up with Ryun recently to talk about his historic feat, which will be celebrated at a 50-year anniversary event at Balboa Stadium in San Diego on June 5.
50 years ago, was it part of your pre-race plan with your coach to break the 4 minute Mile barrier as a junior in high school?
It was a specific goal to run under 4 minutes. Coach [Bob] Timmons always had the policy of having some sort of established goal and writing down splits for every competition. On that particular night, I was probably within a second of every one of my splits, and the goal was to run 3:59.0, and on that night, it happened! What made it interesting was that I was eighth in the race, and as we passed the finish line, I was hoping to be eighth. Then they announced that that was the first time that eight people had run under 4 minutes at one meet, and that the first high school boy had run under 4 minutes—and that was me.
Ryun broke the U.S. outdoor Mile record four times, once as a senior in high school.
When you broke that amazing barrier, did you realize in that moment how historic that feat was and would be for high school track? What impacted you the most about that night?
As time went on, I began to appreciate the historic value of it. I think the thing that impacted me the most was as we worked toward that goal, starting almost two years before, I had my doubts as to whether it could be accomplished. I had committed to following a program that Coach Timmons had given me, but on that night after running under 4 minutes, I really didn't sleep that well because the phone started ringing. People had questions; this was monumental. And as I thought about it over the next few days, I started to take ownership of my future. Yes, Coach Timmons had given me a goal, which was also my goal, but if I took ownership [of those goals] even more, there were things I could do to get even faster. Someone can give you something to do, but when you take ownership and make it your own, you're going to make sacrifices necessary to go to the next level. That was probably the most impactful part—if I were to give more energy and more effort, what would happen? What could be done in the future? And by the grace of God, I got faster and faster.
Ryun's HS Mile record (3:55.3) lasted for nearly 36 years before Alan Webb broke it in 2001.
Continue reading at: http://running.competitor.com