5 Questions with Pat Casey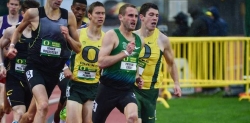 May 30, 2014
Pat Casey, who is coming off a strong performance at the IAAF 2014 World Relays.
By Pat Price, Daily Relay
1) Daily Relay: Congratulations on your strong leg on the American Record and Silver Medal 4×1500 team. What was it like to be part of that group, and were you happy with how the race played out?
Pat Casey: It was a lot of fun. Being a part of such a talented and proven group of guys was awesome. Heading into the stadium coach Gags told me to go with the leaders, no matter how fast the race went out. This was slightly nerve-racking, as there was speculation it could go as fast as 53/54 for the first 400 meters. With this in mind, I was ready to go out there and stay in the race as long as possible. When the race finally started and we didn't go out overly fast, I was able to relax and get into a nice rhythm. After handing off and watching David Torrence chase Kenya's runner, I realized I dodged a bullet by not having to run that second leg, because their splits were nothing short of suicidal. I'm still impressed with how tough David ran. After that, it was a tense couple of minutes watching our guys hold off Ethiopia. Overall, I was happy with how it played out, we got beat, but we got beat by an absolutely ridiculous collection of world class runners, and I can live with that.
Continue reading at: www.dailyrelay.com