Alan Webb's Extreme Transformation from Miler to Marathoner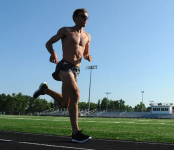 June 09, 2021
Olympian and U.S. Mile record holder takes aim at Grandma's Marathon, fresh off a 1:13 half-marathon after using pandemic time to redefine his physique.
By Amby Burfoot, PodiumRunner.com
Alan Webb, the American record holder in the Mile (3:46.91 in 2007), has entered the June 19 Grandma's Marathon in Duluth, MN. It will be his debut marathon. Just a week ago, Webb, 38, finished his longest race to-date when he completed the Great American River Run Half Marathon (Memphis TN), in 1:13:20. That placed him 4th overall and first in the 35–39 age group.
As a pro runner, in addition to his U.S. Mile record, Webb recorded bests of 1:43.84 for 800 meters, 8:11.48 for 2 miles, and 27:34.72 for 10,000 meters. He proved he could go fast, and he could go long. He made an Olympic team (2004 Athens) and competed in several World Championships. At Grandma's, he'll test his endurance limitations.
Earlier in life, as a high school standout, Webb was best known for the 3:53.41 Mile he ran in 2001 to break Jim Ryun's 36-year-old high school mark of 3:55.3. He was also the first high schooler to break 4 minutes indoors.
After the Memphis race, Webb posted a photo that startled longtime followers. In his prime, he was known for his muscular build, and was sometimes even second-guessed about spending too much time in the weight room. In the recent photo, he appears almost emaciated. Indeed, at his current 5' 9" and 124 pounds, Webb is nearly 20 pounds lighter than during his pro racing career.
Webb is hesitant to discuss his recent weight loss, worried that it might send the wrong message to young runners. He briefly explains below that he simply wanted to shed some "bulk," observing that "most good marathon runners like Eliud Kipchoge are little dudes."
Much more has changed for Webb since his pro running days. He's now a full-time cross country and track coach at the University of Arkansas at Little Rock with four daughters aged 9 years to one month. Last week, while notching a 100-mile training week "for the first time in a long, long time," he was on a recruiting trip to Michigan, home state of this year's high school Mile sensation, Hobbs Kessler. Kessler recently slashed nearly four seconds off Webb's high school record for 1500 meters.
"Hobbs is going to Northern Arizona University, so I wasn't recruiting him," Webb notes. "But I wanted an opportunity to congratulate him in person, and I got the chance to do that on Saturday. It was great."
PR: How and why did you get started training hard again?
AW: I didn't like the idea that COVID was going to keep us all indoors, exercising less and eating more. I decided instead to bump up my own running, which had been at about 30 miles a week. I wanted to focus on enjoying the gift of running. There are so many people who can't run for one reason or another. Despite having four young daughters and a full-time job, I can still run, and decently fast, I believe.
Continue reading at: podiumrunner.com
POSTSCRIPT: Alan Webb finished his first marathon in 2 hours, 48 minutes, 25 seconds.