Americans getting more bang for their buck with the Mile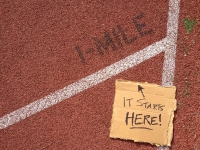 December 24, 2015
"The Mile joins the 100 meters and the marathon as the most approachable and exciting events to follow for those who aren't fans of the sport."
By Tony Casey, Johnson City Press
What's the difference between 1500 and 1609 meters on a track? A lot more than 109 meters.
Even though the Mile is longer, it might be the precise distance needed to grab the attention of American sports fans.
On May 6, 1954, Roger Bannister became the first human being to crack 4 minutes in the Mile, setting a benchmark for human athletic achievement, offering both fans of the sport, and those outside of its following, a taste of middle distance running. Since then, in the United States, the Mile has become a figure that just about any person can relate to.
Gym classes across the country use it as an ability marker. Whereas runners race the Mile, or at least run the Mile constantly, soccer players, early season out-of-shape baseball players — in my experience — and even football players run a timed Mile at some point of their athletic upbringing, all knowing exactly where on that time spectrum they reside.
This is the reason the Mile is so important to many Americans. Outside of the U.S., though, and especially at the World Championships and Olympic Summer Games, for which so many of America's best middle distance runners will try to qualify, the 1500, the metric Mile, is the international standard.
Continue reading at: www.johnsoncitypress.com