Andrews Finishes Fourth in the Mile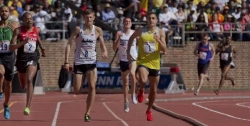 April 27, 2013
By Josh Newman, Asbury Park Press
PHILADELPHIA — It took Robby Andrews a while to get himself together.
On one of those picturesque, sun-drenched Saturdays at the Penn Relays, the former Manalapan and University of Virginia star crossed the line fourth in the Olympic Development Men's Mile, made his way just beyond the track and got sick. He eventually made his way into and through the paddock area, across 33rd Street and had a seat to change his shirt and shoes.
Still wobbly, he tried to walk it off, but it just wasn't happening as he eventually sprawled himself out on a patch of grass across from Franklin Field with his father, as always, by his side.
Nearly 35 minutes after a race that appeared as if it would simply be added to Andrews' already-stacked resume at Penn, he began to think, which led to the realization of what he had accomplished.
Andrews ran 3:57.82 for the full Mile, the first sub-4:00 Mile of his career. That is not only a highly-encouraging early-season effort in this, a World Championships year, but it makes him the first Shore Conference graduate to ever accomplish the feat.
Continue reading at: app.com