Back to Basics: Brie Felnagle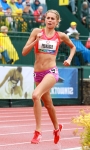 September 06, 2013
After a move, a new team and a return to fundamentals, sub-4:30 Miler Brie Felnagle is a national contender again.
By Liam Boylan-Pett, Running Times
For the better part of two years, Brie Felnagle disappeared from the elite running scene, a surprise AWOL after a fantastic collegiate career. At the University of North Carolina, Felnagle ran PRs of 2:04 for 800m, 4:08 for 1500m and 4:32 for the Mile, and she won the 2007 NCAA Outdoor 1500m title. Following her graduation in 2010, she seemed poised to see success on the professional circuit similar to other famous Tar Heels -- like Shalane Flanagan, Alice Schmidt and Erin Donohue.
In the couple of years after college, however, she couldn't duplicate the results she'd had in Chapel Hill, and Felnagle was nowhere to be found. She says she was "burned out" from school and the demands of the collegiate track season (running conference meets and NCAAs for three seasons every year), and she needed a break from high-level training. She hadn't planned on the hiatus, however. "I always wanted to be good," she says.
In that case, she's back where she wanted: racing at a first-class level, beginning with the indoor season. She won the 3000m at the UW Invitational in Seattle in January in 8:54.74 before taking 12th at the USA Cross Country Championships in February. In early May, Brie clocked a 4:29 Mile at Re: RUN San Diego, and at the Oxy High Performance Meet on May 17, Felnagle lowered her PR in the 5000m to 15:14.33 and achieved the World Championships "A" standard in the process. On a hot day in June, however, Felnagle finished seventh at the USA Outdoor Championships in 15:46.05 and missed out on a trip to Moscow.
After graduation, Felnagle, now 26, moved back to Tacoma, Wash., where she had gone to high school. In January, she joined the Brooks Beast Track Club that formed this year in Seattle and is coached by Danny Mackey. Felnagle is sponsored by adidas, so she isn't officially a Brooks Beast, but she trains with the group that includes Katie Mackey, a 1500m and 5000m specialist, and Lindsay Allen, a steeplechaser, on the women's side.
Continue reading at: www.runnersworld.com