Billings' Christina Aragon wins 1500 bronze medal at World U20 Championships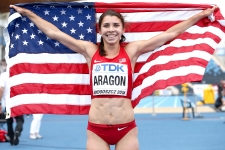 July 26, 2016
"I'm really excited. It's always such an exciting thing to be able to PR, especially the last meet of the season."
By Billings Gazette staff
Christina Aragon's incredible summer continued on Sunday, August 24 as the Billings Senior High graduate finished in third place in the 1500 meter finals in the IAAF World Junior Championships in Bydgoszcz, Poland.
Aragon (above right, PhotoRun.net) grabbed the bronze medal for Team USA with a new personal record time of 4:08.71, improving by more than 10 seconds from her finals qualifying time on Saturday. Teammate Alexa Efraimson, who recently turned pro and holds the national U20 record in the 1500, finished the race in fifth place at 4:10.23.
Adanech Anbesa and Fantu Worku, both of Ethiopia, finished first and second respectively. Anbesa won the gold, clocking a time of 4:08.07.
"I knew that I wanted to finish having known that I gave everything I could in that race," Aragon told the IAAF after the race. "My pie in the sky goal was to get a medal for the U.S., but no matter what happened I knew that I wanted to run a race where I knew coming into the finish line there's nothing I could have done differently."
In taking bronze Aragon claimed Team USA's first-ever girls world U20 medal at the IAAF Worlds in the 1500, according to http://www.milesplit.com The 4.:08.71 improved her own #4 all-time ranking for U.S. female high school runners. The website went on to note that the time elevated Aragon from #5 to #4 on the U.S. under-20 all-time list.
Continue reading, includes race and post-race videos, at: billingsgazette.com