Book Review of "Once a Runner" prequel "Racing the Rain" by John L. Parker, Jr.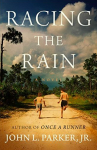 August 11, 2015
"It works and has the potential to draw a new audience into Once a Runner, by telling the story of Quenton Cassidy's development into a Miler."
By Jonathan Gault, LetsRun
The appeal of Once a Runner, the 1978 cult classic by John L. Parker, Jr., is that it is, first and foremost, a running book. It's Quenton Cassidy's story, but it's also a story about anyone whoever laced up a pair of spikes and dedicated themselves to the single-minded pursuit of a goal.

Parker's 2008 follow-up, Again to Carthage, changed it up. While anyone who read Once a Runner would certainly be familiar with Cassidy's wit and willingness to fight for what he believes, for the first time we get to see Cassidy the person entirely separate from his running pursuits (that is, until he takes the sport up again halfway through the novel).
Now, in Racing the Rain, Parker's Once a Runner prequel that serves as the final installment in the Cassidy series, Parker affords an even deeper dive into his famous protagonist. Racing the Rain features running and racing, but it is not specifically a running book. Coming-of-age novel? Yes. Sports story? Most definitely. But while the running elements linger underneath the surface like the tropical fish Cassidy dives for, Cassidy's journey is far more complex than a simple buildup to the Big Race.
Continue reading at: letsrun.com