Bring Back the Mile Announces Anniversary Contest Winner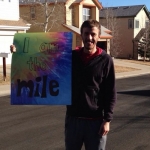 February 21, 2013
Nathan Bickell and Shai Ben-Dor win $359 Running Warehouse gift certificate for their #IAMTHEMILE video to be featured in BBTM's anniversary video
SANTA BARBARA, Calif. – (February 21, 2013) – Nathan Bickell and Shai Ben-Dor of Ithaca, NY are the winners of the Bring Back the Mile Anniversary Contest. Their #IAMTHEMILE video was selected over numerous photo and video submissions from across the country – all tied to one common theme: the Mile, one of the most iconic and storied events in sport.
"In celebration of Bring Back the Mile's first year, our anniversary video will showcase the contest submissions, and we congratulate and thank Nathan and Shai and the other contest entrants who produced some wonderful and original videos and photos on the BBTM theme," said Ryan Lamppa BBTM Founder. "We also thank our anniversary contest sponsors Running Warehouse and RunnerSpace.com for their support and promotion."
And the winners are…

GRAND PRIZE – $359 Running Warehouse gift certificate
FOUR RUNNER-UPS – $35.94 Running Warehouse gift certificate
For more "I Am the Mile" videos, photos and stories, go to: http://bringbackthemile.com/iam
About Bring Back the Mile
The Mile holds a special place in Track & Field and beyond because no running distance, or field event for that matter, has the history, the appeal, the "magic" of the Mile. The first sub-4 minute Mile by Great Britain's Roger Bannister in 1954 is regarded as the greatest individual athletic achievement of the 20th century (see Forbes November 18, 2005 article HERE), and no other event has produced an equivalent of the sub-4 minute Mile standard in the sport, in the media and in the public's mind.
Over the past decade, unfortunately, the Mile has lost some of its luster, and thus, the Bring Back the Mile mission is: To return the Mile to prominence on the American sports and cultural landscape by elevating and celebrating the Mile to create a national movement.
FEATURED ANNIVERSARY PARTNERS