Bring Back the Mile Launches Anniversary Contest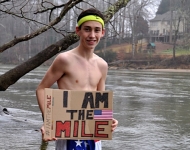 December 12, 2012
$359 Running Warehouse gift certificate for the winning video or photo to be featured in BBTM's #IAMTHEMILE anniversary video
Click Here to Upload Your Photos and Videos
SANTA BARBARA, Calif. – (December 12, 2012) – Bring Back the Mile launched on January 18, 2012 with a video and a cardboard sign that read "I am the Mile". BBTM's mission is to elevate and celebrate one of the most iconic events in sport, the Mile, and also to replace the misfit 1600 meters at the U.S. high school level, a distance that falls nine meters short of prep athletes' dreams.
Over the past year we have connected with Mile Maniacs and fans all across the country and the world including Sandwich High School in Massachusetts as well as professional Milers such as 2012 Olympic silver medalist Leo Manzano and Team USA Minnesota's Gabriele Anderson who have supported us throughout the year. And we have been humbled by the support of the legends such as Jim Ryun who engages our youth in our favorite sport through its marquee event - the Mile.
To honor all of those people who have joined and supported BBTM in Year One, we are launching the #IAMTHEMILE Anniversary Video Contest. This is your chance to be an internet star, get featured on RunnerSpace.com, and win some great prizes including a grand prize $359 gift certificate from Running Warehouse and four $35.94 runner-up gift certificates. Here's the low-down:
CONTEST RULES
LAP 1: Grab your favorite piece of cardboard and write "I (WE) AM THE MILE" in addition to anything else you'd like. Make it your own. Have fun!
LAP 2: Submit a photo of yourself, team, family or even pets at www.bringbackthemile.com/iam or emailing milemaniac@bringbackthemile.com. You may also submit via RunnerSpace.com, Twitter and Instagram using the hashtag #IAMTHEMILE.
Photos recommended in landscape mode (horizontal)
Mobile photos with iPhones and most Android phones are acceptable.
LAP 3: Submit a video of yourself, team, family or even pets at www.bringbackthemile.com/iam. You must link directly from YouTube, Vimeo or other video hosting services including Facebook. You may also share the video using the hashtag #IAMTHEMILE on YouTube and RunnerSpace.
Video length no longer than 30 seconds
Videos must be shot in landscape mode (horizontal).
Mobile videos via iPhones and most Android phones are acceptable (minimum 720 HD recommended such as rear camera on iPhone 4 or above).
LAP 4: Submissions must be received by January 20, 2013 at 2:31PM EST.
PRIZES
Every accepted photo and video submission will receive an "I AM THE MILE" wristband.
Every photo or video selected to be in the BBTM anniversary video will receive an "I AM THE MILE" t-shirt in addition to the wristband.
Our favorite photo or video will receive a $359 gift certificate from Running Warehouse. Four runner-ups will receive a $35.94 gift certificate.
The anniversary video will be featured on BBTM's website as well as on RunnerSpace.com.
Contest Not so Fine Print
Submitted photos and videos become property of BBTM for use on related websites, social media channels and other mediums. Accepted submissions will be notified by email or social media account with instructions on claiming prizes within two weeks of contest end date. Grand prize winner to be selected by BBTM staff.
About Bring Back the Mile
The Mile holds a special place in Track & Field and beyond because no running distance, or field event for that matter, has the history, the appeal, the "magic" of the Mile. The first sub-4 minute Mile by Great Britain's Roger Bannister in 1954 is regarded as the greatest individual athletic achievement of the 20th century (see Forbes November 18, 2005 article HERE), and no other event has produced an equivalent of the sub-4 minute Mile standard in the sport, in the media and in the public's mind.
Over the past decade, unfortunately, the Mile has lost some of its luster, and thus, the Bring Back the Mile mission is: To return the Mile to prominence on the American sports and cultural landscape by elevating and celebrating the Mile to create a national movement.
FEATURED ANNIVERSARY PARTNERS