Bring Back the Mile Pick-the-Winner Contest Launched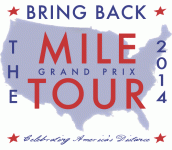 January 28, 2014
Presented by Running Warehouse, fans can choose their favorites to win Saturday's Camel City Indoor Miles, first stop on the BBTM Grand Prix Tour 2014, for a chance to win prizes

SANTA BARBARA, Calif. – (January 28, 2014) – As part of the Bring Back the Mile Grand Prix Tour 2014, BBTM launched today its "Pick-the-Winner" contest presented by Running Warehouse. Fans are able to select their favorite Milers to win the Men's and Women's professional Miles on Saturday, February 1 at the Camel City Indoor Mile, part of the Hilton Garden Innvitational collegiate track meet in Winston-Salem, N.C. Fans who select the correct winner in either race will be in the running to win a $50 gift certificate to Running Warehouse as well as BBTM gear.
"A big part of what we want to accomplish at BBTM is finding engaging ways to connect fans with the professional Milers," said BBTM Marketing Director David Monico. "Whether you are able to be at the event or not, this is a great way to cheer for your favorite athletes and get a chance to win prizes from Running Warehouse and BBTM."

Fans can visit the "Pick-the-Winner" page and submit their entries before 10:00am PST on Saturday, February 1. Winners, from a random draw, will be announced via social media shortly after the event completion.

The Running Warehouse "Pick-the-Winner" contest offers fan engagement at each Tour stop. The current calendar is as follows:
Bring Back the Mile Grand Prix Tour 2014
Camel City Indoor Mile, Winston-Salem, NC, February 1, $6125 plus time bonuses
Medtronic TC 1 Mile, Minneapolis, MN, May 8, $25,000 plus $10,000 course record bonus
Ryan Shay Mile, Charlevoix, MI, July 26, $4000
GNC Live Well Liberty Mile, Pittsburgh, PA, August 1, $19,900
Michigan Mile, Flint, MI, August 22, $10,000
Grandma's Minnesota Mile, Duluth, MN, September 7, $20,100
Visit www.bringbackthemile.com/tour or contact media@bringbackthemile.com for more BBTM Grand Prix Tour news and information.

About Bring Back the Mile
The Mile holds a special place in Track & Field and beyond because no running distance, or field event for that matter, has the history, the appeal, the "magic" of the Mile. The first sub-4 minute Mile by Great Britain's Roger Bannister in 1954 is regarded as the greatest individual athletic achievement of the 20th century (see Forbes November 18, 2005 article HERE), and no other event has produced an equivalent of the sub-4 minute Mile standard in the sport, in the media and in the public's mind.

Over the past decade-plus, unfortunately, the Mile has lost some of its luster, and thus, the Bring Back the Mile mission is: To return the Mile to prominence on the American sports and cultural landscape by elevating and celebrating the Mile to create a national movement.