BYU runner to attempt Mile record at upcoming meet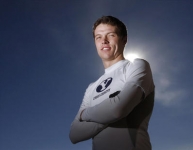 April 24, 2012
By Taylor Wilson, The Deseret News
PROVO, Utah – Senior Miles Batty will attempt to become just the second runner in history to complete a sub-four minute Mile in the state of Utah on Saturday at 1:45 p.m. MT at the annual BYU Robison Invitational.
Batty will attempt to join Olympian Doug Padilla on the short list of runners to finish a Mile in under four minutes in the state of Utah. Padilla is currently the only member of that elite group.
Padilla ran the Mile in 3:57.83 on May 21, 1983, on the BYU outdoor track. His feat has remained unmatched for nearly 29 years. Batty hopes to join Padilla on the Utah sub-four list and will look to break Padilla's Utah Mile record.
The Mile, along with all other events, will be contested at the Clarence F. Robison Track and Field Complex. A full schedule of events is available at www.byutrack.com.
Read complete article at www.desertnews.com