Catching Up with Garrett Heath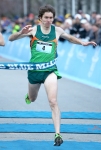 October 15, 2013
"I think road Miles are a good way to involve communities more in what we're doing and generally build interest in running."
By Scott Bush, RunnerSpace.com
If road Miles were an Olympic event, Garrett Heath might have an Olympic medal. We're kidding...kind of. 2013 was the year of road miling success for Heath. First, he won the USA 1 Mile Road Championships in Des Moines. He then came back after a strong European track season to win the Bupa Great North 1 Mile over a stacked field, while concluding his season with an impressive third place finish at the NYRR Fifth Avenue Mile. Heath proved his fitness this past season was at an all-time high and looks for even bigger things in 2014.
We caught up with Heath recently, talking over his season, his road race successes, what his current training situation is like and much more.
Scott Bush (SB): Congratulations on a terrific season, especially closing it out on such a high note with a third place finish at the Fifth Avenue Mile. How do you feel the race unfolded for you and what does it mean to close out your season on such a high note?
Garrett Heath (GH): Fifth Ave is always an awesome event to end the season with because of the great atmosphere and competition there, so being able to make the podium this year made it only that much more special. My parents were also out for the race, so I guess that may have given me a little extra motivation out there as well.
Because the field was so big this year, as the size of the elite American miler class continues to grow, I really just wanted to settle in through the first half of the race and then basically look to follow the moves on the downhill from 800 to 1200. I've had a tendency to sometimes get carried away in the first half of the race in the past and pay for it later on, so I really just focused on staying relaxed and trying to key off Nick Willis when he eventually made his move a little before 400 to go. He is exceptionally fit and looks to be in mid-season form right now, so ultimately I wasn't able to push him all the way to the line but felt strong until the last 50.
Continue reading at: www.runnerspace.com