Checking in with Mary Decker Slaney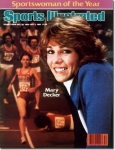 August 04, 2013
"A positive aspect of 1984 is that a lot of Americans came to know what women's running is about, came to know more about women's running, and followed it more."
By John Garcia, ABC 7 Chicago
I probably gave myself away pretty early in the interview when I admitted I was one of those teenage boys who had a poster of her up on my wall when I was a kid. She has heard that before apparently. I never had the Farrah Fawcett picture, but I was a big fan of Mary Decker Slaney. I suppose most Americans who are track and field fans are big followers of hers, regardless of that little incident in the 1984 Olympics involving a barefooted runner from South Africa named Zola Budd.
One of the fun things about my job is getting the opportunity to meet people I admire, who I would otherwise probably never get to talk to. Usually that's not really too big a deal to me, but meeting Mary Decker Slaney was a pretty nice opportunity.
Let's start with this: She at one point held the American record in every women's distance from 800 meters to 10,000 meters. She only ran the 10,000 meter distance once, and set the world record. She ran a 3:09 marathon when she was 12, and that remains the only marathon she has run. Her American records still stand in the 1500 meters, Mile and 3000 meters, some 30 years later. Mary is also the only U.S. woman to hold the outdoor Mile world record that she set three times - 1980, '82 and '85. In 1983, she was Sports Illustrated's Sportsperson of the Year.
Yeah, she was the real deal. Slaney just celebrated her 55th birthday, and still looks incredibly fit, though injuries have limited her running pretty dramatically. Competitor group, which puts on the Rock 'n' Roll Half Marathon in Chicago, brought her into town a couple weeks ago to help promote the race. When they offered me a chance to talk to her, I jumped!
Continue reading at: http://runningnewsguy.abc7chicago.com