Could you run a 5 minute Mile?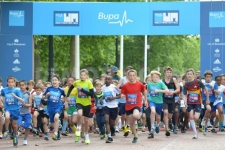 June 10, 2014
Endurance athlete Tobias Mews finds out that it's not as easy as it sounds; sage advice from Mile great Steve Cram
By Tobias Mews, The Telegraph
Over the last few years, I've run races at almost every distance, from 5K park runs to 100 mile ultra-marathons. I consider myself an experienced runner - but recently, while reading about the 60th anniversary of the great Sir Roger Bannister becoming the first man to break the 4 minute Mile, I realised that I'd never run 'just a Mile'. Despite running miles upon miles every week, I wasn't even sure how long one Mile would take me.
The BUPA Westminster Mile two weekends ago gave me a chance to find out. Famously, Sir Roger ran 1760 yards in 3 minutes, 59 seconds, but I had no illusions of matching that. Only a month before the Westminster Mile, Wilson Kipsang had covered similar ground in the last of his 26 miles en route to winning this year's London Marathon. Kipsang set a new course record that day with an amazing 2 hours, 4 minutes and 27 seconds, which meant he'd averaged 4:45 miles (all while looking as if he was merely stretching his legs). I suspected that too was out of my reach.
Instead, I thought I might have a better chance of matching the time set by Diane Leather in 1954, who became the first woman to run a Mile in under five minutes just 23 days after Sir Roger set his record.
Ahead of the event, Steve Cram (PR: 3:46.32) offered a pearl of sage advice: "It's important to warm up properly before the Mile. When the gun goes, run hard but not so hard that by 200 meters you're unable to maintain your pace. The Mile is undoubtedly a short race, but it's long enough that if you go out too hard, the last half will be very difficult."
Continue reading at: www.telegraph.co.uk