Danvers' Dominick enjoys prestigious Cochary Mile at Falmouth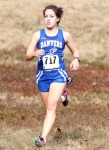 August 12, 2013
"The whole atmosphere was awesome. I almost felt famous."; finishes third in 5:17
By Matt Williams, The Salem News
At 41-years-old and drawing nearly 11,000 runners, the New Balance Falmouth Road Race is one of the marquee events on the Bay State running calendar.
The day before the main event, the races at Falmouth High's James Kalperis Track have become just as special.
Danvers' Catalina Dominick (right, David Le / Staff photo) was one of 10 girls from around Massachusetts invited to participate in the Tommy Cochary High School Mile, held Saturday, August 10. The Mile included a boys and girls field, and the day also featured an elite Falmouth Mile and a competition for wheelchair athletes.
"It was one of the most fun times of my life," said Dominick, who is heading into her junior year of cross country and track. "Every one there was really nice and we got trainers, spikes, uniforms and lots of other stuff. The whole atmosphere was awesome. I almost felt famous."
The Mile honors Tommy Cochary, a Falmouth runner who was killed in a drunk driving accident in 1990. The race was named in his honor in 2010 and first featured runners from Cape Cod; it was expanded state-wide after that and this year to apply, student-athletes were asked to write an essay about making good choices.
"I had received an email about it and the essay was about some decisions you've made and smart choices, things like that," Dominick said. "It was an honor to be selected."
Dominick ran 5 minutes, 17 seconds and finished third, with Stella Worters of Charlton winning in 5:14. The high school runners have been preparing for cross country, running longer distances away from the speed of the track, and took the pace relatively easily on Saturday.
"There was no stress. The race was all for fun and all the girls got that, we were having a good time together," said Dominick. "We went out fairly slow and the last half everyone picked it up."
The 5:17 was especially strong for Dominick because she hasn't run many 1-Mile races since her freshman year at Danvers High. She battled through injuries for much of last year and started feeling good towards the end of spring track, where she was second in the 2-Mile at the Northeastern Conference championships and fourth at the All-State championship meet.
Continue reading at: www.salemnews.com