Rise of the Mitchell Street Mile draws top field, expects to double participant numbers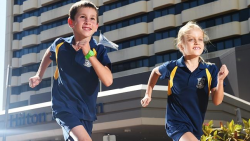 September 03, 2015
Australian 1500m record holder Ryan Gregson and Olympian Collis Birmingham confirming this week for second edition in Darwin on September 20; record $35,000 prize purse
By Grey Morris, NT News
The $35,000 foot face on Darwin's main thoroughfare on Sunday, September 20, will be the second edition of the great race after its successful launch in 2014.
More than 400 runners and 4,000 fans were in Mitchell Street last year, numbers Bowden wants make a whole lot bigger when the race returns on September 20.
"I believe in doubling everything,'' he said.
"That means I'm looking at 800 runners and about 9,000 spectators, pretty simple sums really.
"That's already well on the way with Australian 1500m record holder Ryan Gregson and dual Olympian Collis Birmingham confirming this week they'll be at the start line in the elite men's race.
"We had the Australian Mile holder here last year in "Buster'' Mottram who won the race (4min 03.6 seconds), so to have Ryan here is even more phenomenal.
Continue reading at: www.ntnews.com.au