Eccleston handles ups & downs to win Minnesota Mile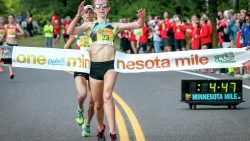 September 07, 2018
New pro Josh Kerr men's champion; fifth stop on BBTM Grand Prix Tour 2018 awards $17,000; Tour finale The Navy Mile on Sunday, September 30 in Washington, DC
By Jon Nowacki, Duluth News Tribune
Amanda Eccleston had never run the Minnesota Mile before, but she received a valuable piece of advice before Friday evening's race near Enger Tower.
Just get to the top of the hill first and you'll be fine.
Eccleston did just that, winning in 4 minutes, 47 seconds, to edge Grandma's Marathon women's record holder Kellyn Taylor by four-tenths of a second. Josh Kerr, a Scotland native who runs at the University of New Mexico, sprinted past Daniel Herrera of New Orleans to win the men's race in 4:10.5. Each race champion received $2500.
"The advice paid off," said Eccleston, 28, of Ann Arbor, Mich. "I was very tired getting to the top, but I knew it was not far after that. Once you get there the finish is just down and it's just impossible to pass because you're trying not to fall."
Taylor, 32, found that out the hard way. Taylor, a Wisconsin native who lives in Flagstaff, Ariz., obliterated the Grandma's event record by just over two minutes in June. Her 2:24:28 was the seventh-fastest marathon all-time by an American woman.
Despite all that, Eccleston felt she had the advantage because the mile is her distance. Eccleston won three NCAA Division II titles in four years at Hillsdale College and earned All-America honors one year at Michigan.
Temperatures in the 60s, a cool breeze off the lake and a hilly course didn't intimidate Eccleston, either.
"The thing that is fun about the roads is that you kind of throw your times out the window and just race," she said. "It was definitely hard when it got hilly at the end, but it made it kind of fun."
Continue reading at: duluthnewstribune.com
12th Minnesota Mile
BBTM Grand Prix Tour 2018 fifth stop
Duluth, MN, Friday evening, September 7, 2018
MEN
1) Josh Kerr (GBR), 4:10.5, $2500
2) Daniel Herrera (LA), 4:11.1, $1800
3) Riley Masters (CO), 4:11.8, $1200
4) Tripp Hurt (CO), 4:12.0, $900
5) Garrett Heath (WA), 4:12.7, $800
6) Jeff Thies (CA), 4:13.1, $600
7) Will Leer (CO), 4:13.5, $400
8) Sam Atkin (ID), 4:14.0, $300
9) Brandon Hudgins (NC), 4:15.0
10) Matt Cooper (WI), 4:15.1
MASTERS MEN (40 & older)
1) Eric Hartmark, 40, (MN), 4:52.6, $500
WOMEN
1) Amanda Eccleston (MI), 28, 4:47.0, $2500
2) Kellyn Taylor (AZ), 4:47.4, $1800
3) Nikki Hiltz (OH), 4:50.1, $1200
4) Therese Haiss (OH), 4:51.3, $900
5) Maddie Van Beek (ND), 4:53.0, $800
6) Tori Tsolis (CA), 4:54.8, $600
7) Angela Piccirillo (PA), 4:55.9, $400
8) Iveen Chepkemoi (KEN), 4:59.5, $300
9) Chihiro Imai (JPN), 5:02.4
10) Breanna Sieracki (MN), 5:03.6
MASTERS WOMEN (40 & older)
1) Jen Rhines, 44, (CA), 5:21.3, $500
Complete race results HERE.
BBTM GP Tour 2018 current standings HERE.