Eccleston running toward Olympics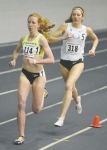 April 11, 2016
I ran a 5:13 Mile in high school. I was a decent runner, I guess, but I had no idea I would enjoy it this much. I love running.
By Doug Donnelly, Daily Telegram Sports Writer
ANN ARBOR -- Talk about athletes who reach their full potential.
Amanda (Putt) Eccleston was an accomplished runner at Tecumseh High School, but no one — not even her — predicted anything like this.
Earlier this year, Eccleston, 25, ran the Mile in a personal record 4:26.63 in the famed Wanamaker Mile during the 109th Millrose Games. She was in sixth place starting the last lap, but finished third. That time was one of the fastest of the year in the country and made her the ninth fastest American woman in the indoor Mile all-time.
The time of "4:26 just amazes me," said Eccleston. "I never had any expectations of this. It's pretty cool. My goal is to make the Olympic team."
Continue reading at: www.lenconnect.com