From Boston to Brooklyn, Is the Mile the New Marathon?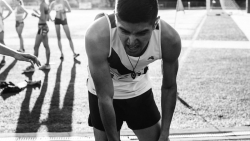 August 11, 2017
"The folks at Bring Back the Mile have raised awareness as well."
By Matt Gross, Men's Journal
Next to the marathon, the Mile may be the most iconic of all race distances. Short enough to inspire an all-out push, but long enough to require stamina, the humble Mile — 5,280 feet, in case you're wondering — has stood as the measure of human running ability at least since Roger Bannister broke the 4 minute barrier in 1954. In high school and college track meets, runners have competed in the Mile for decades, but now the road Mile race is seeing a slight uptick in popularity. This weekend, the Trackhouse Mile is taking place for the first time in Boston, sponsored by the Tracksmith apparel brand, and on August 20, the second annual Brooklyn Mile will see more than 1,000 runners cruising through the Williamsburg neighborhood. Men's Journal recently spoke with the organizers of these races —Josh Rowe, Tracksmith's head of marketing, and Matt Rosetti, owner of the Brooklyn Running Co. — to find out whether the Mile really is the new marathon.
What goes into putting on a good Mile race?
Matt Rosetti: That's not a sound bite question—that's a tough one! You know, I just finished ordering a bouncy slide, so… [Laughs] It goes back to what you want it to be in the first place, which is to introduce the sport of running to a wider demo. And we felt that the Mile is sort of the gateway drug of running. It's a very accessible distance for folks. You can't just focus on the fast people, you need to approach and attract a very wide demo, including the beginners and intermediate runners.
There's a tremendous amount of work in terms of permitting and city, state organizations we also have to deal with, from insurance to EMTs to FDNY to emergency vehicles to meeting with your local captains and inspectors of precincts that the race course runs through, and your local community boards. It's not for the faint of heart. My to-do list on my Excel sheet on my desktop now is 172 items long. It's a crazy endeavor.
Josh Rowe: Having a great Mile on a very cool section of road makes a big difference, whether it's on a cool street in Brooklyn or certainly Newbury Street, where they don't shut down the street for races. People are running on Newbury Street for the very first time—it's a very cool thing. When you're thinking about putting on a Mile race, the cooler the race course, the better. When you're able to run through places you've never been able to run before, it just gives it that much more excitement. Our fortune for getting to run down Newbury Street has added a lot to the cachet. People have been trying to run down it for years and years and years, and it's just not easy to shut down. But now they're shutting down the street anyway [for the Open Newbury Street fair], so we piggybacked on that.
Continue reading at: mensjournal.com