Gabriele Anderson Wins 1500 Meter Race in Lignano in World Class Time of 4:04.84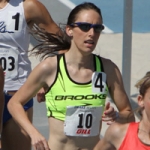 July 18, 2012
Team USA Minnesota athlete also sets personal record for metric Mile
By Team USA Minnesota
MINNEAPOLIS, Minn. - Team USA Minnesota's Gabriele Anderson won the women's 1500 meter race at a meet in Lignano, Italy, on July 17 with a world class and personal record time of 4:04.84 (previous PR was 4:06.46).
She achieved the accomplishment at the Meeting Internazionale di Atletica Leggera, which was her second race in a European outdoor track tour that began in Kortrijk, Belgium, on July 14. At that meet she ran a PR of 2:02.83 in the 800 meters to finish third (previous PR was 2:03.03).
Anderson now has posted the fastest women's 1500 meters of all-time by a Minnesota runner, surpassing 2004 Olympian Carrie Tollefson (4:06.13), Minnesota Hall of Famer Sarah Thorsett (4:05.87) and 2008 and 2012 Olympian Kara Goucher (4:05.14).
Continue reading at: teamusaminnesota.org