Hogan Captures 2013 Speedgolf World Title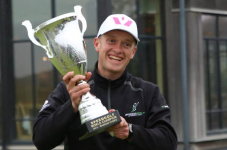 October 27, 2013
Olympic medalists and world class Milers Nick Willis and Bernard Lagat, 13th and 24th, respectively
By Erik Peterson for the Bandon Dunes Golf Resort
BANDON, Ore. – Under rainless skies and calm winds, Rob Hogan of Ireland bested a field of 25 professional speed golfers to capture the title at the 2013 Speedgolf World Championship at Bandon Dunes Golf Resort.
The 36-hole championship began Saturday at the resort's Old Macdonald course, where Hogan jumped out to the midway lead with a 77 in 39 minutes and 31 seconds (39:31). He continued his momentum Sunday at the resort's Bandon Dunes course with a 79 in 41:29. Hogan had the fastest time both days.
The scoring format of Speedgolf is total strokes, plus total minutes and seconds it takes the player to complete his or her round. Hogan's final Speedgolf score was 236.55.
The field included two Olympic track & field medalists: Bernard Lagat (USA) and Nick Willis (NZL).
Continue reading - includes results and photos - at: www.bandondunesgolf.com