HOKA ONE ONE Adds More Elite Runners to Athlete Roster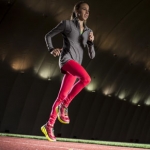 February 21, 2014
Recent additions include NY*NJ Track Club's Nicole Schappert, a NCAA All-American out of Villanova University
RICHMOND, Calif. – (February 21, 2014) – HOKA ONE ONE®, designers of the revolutionary oversized cushioned running shoe with engineered midsole geometry and a division of Deckers Outdoor Corporation (NASDAQ : DECK), is proud to announce it has added Olympic Marathoner Magdalena Lewy Boulet and All-American Miler Nicole Schappert to the brand's squad of elite runners.
Lewy Boulet's achievements have included winning the San Francisco Marathon in 2002, claiming back-to-back bronze team medals at the IAFF World Cross Country Championships in 2010 and 2011 and competing for the USA at the 2008 Beijing Olympics. She also held the title of the nation's top-ranked marathoner in 2012. Her PR for the marathon is 2:26:22 and she has now expressed an interest in pursuing ultra marathon distances as well.
"I am looking forward to running further and am confident that HOKA ONE ONE shoes will help me to do so," Lewy Boulet said.
A former All-American in both Cross Country and Track at Villanova University, Nicole Schappert, has also joined the HOKA ONE ONE elite team. Schappert was a 1500 meter finalist at the 2012 U.S. Olympic Trials and was America's fastest indoor Miler in 2012. She was also a member of the USA National team in the 2013 World University Games in Kazan, Russia. Currently a graduate student at Rutgers University, Schappert ran a PR of 9:00.84 for 3000 meters at the Millrose Games earlier this month.
"In 2012, I missed a spot on the U.S. Olympic team by a few seconds. The very next season I had a foot injury that required surgery. I went from my best year in 2012 to seriously fearing the end of my running career. Then I tried a pair of Hokas. Not only was I able to run, but I was able to train at the level needed to be competitive. I'm looking forward to another shot in 2016," said Schappert.
"Our goal is to always find the right athletes who compliment our brand with best in class performance. Magdalena and Nicole are no exception," said Jim Van Dine, Brand President of HOKA ONE ONE. "These two women bring impressive achievements in their respective fields and substantial contributions to the running community as a whole. They are the perfect fit for HOKA ONE ONE and the future of our brand."
About HOKA ONE ONE
HOKA ONE ONE was founded in 2009 by Jean-Luc Diard and Nicolas Mermoud and was created to design shoes that offer improved performance primarily for ultrarunners. Deckers Outdoor Corp. acquired the brand in late 2012 and is investing to broaden the product line to service all runners. Due to HOKA ONE ONE's unique ability to provide cushioning while still offering stability, runners may greatly benefit from a product that is designed to greatly reduce the amount of stress on their lower legs and body.
About Deckers Outdoor Corporation
Deckers Outdoor Corporation is a global leader in designing, marketing and distributing innovative footwear, apparel and accessories developed for both everyday casual lifestyle use and high performance activities. The Company's portfolio of brands includes UGG® Australia, Teva®, Sanuk®, TSUBO®, Ahnu®, MOZO®, and HOKA ONE ONE®. Deckers Outdoor products are sold in more than 50 countries and territories through select department and specialty stores, 117 Company-owned and operated retail stores, and select online stores, including Company-owned websites. Deckers Outdoor has a 40-year history of building niche footwear brands into lifestyle market leaders attracting millions of loyal consumers globally. For more information, go to: www.deckers.com