How a Mile Race Can Help Boost Enthusiasm in Running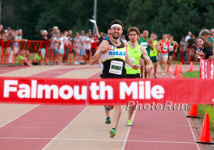 September 09, 2015
"Everybody understands the significance of running a sub-4-minute Mile. And everyone knows what a Mile is, plus it's the right amount of time that no one is getting bored watching and everyone is constantly on the edge of their seat."
By Brian Metzler, Competitor Magazine
I'm decidedly biased, but track & field is certainly one of the most exciting sports to watch—and specifically mid-distance to long-distance running races. Every event is entirely different, in its strategy, speed, drama and duration.
Unfortunately, not everyone thinks like me.
One of the problems with track & field's identity crisis in America is that not enough people get a chance to see the thrilling drama of those events play out. There are more than 30 million people who run recreationally in the U.S., but most of those people—all but a tiny fraction—don't have any knowledge or interest in the sport. (And yes, if your only experience has been waiting hours on end for your kid / sibling / nephew / niece to compete in a middle school or high school meet, I totally get it.)
Golf, basketball, football and baseball certainly don't suffer from the same problem, so what can we do?
"Bring Back the Mile," says Kyle Merber, a New Jersey-based professional runner, echoing the slogan of a grassroots group that has been trying to revive interest in running's marquee race both at the professional and recreational level. There are too few top-tier track meets in the U.S., Merber says, and very few in the summer months when athletes are really starting to peak.
Continue reading at: running.competitor.com