How Dan King set 60-64 age group Mile world record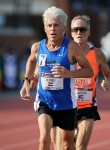 September 12, 2020
Boulder, Colorado resident mastered his injury woes: "You have to train really hard, but you don't have to run a ton of miles each week."
By Sarah Lorge Butler, Runner's World
Dan King never knew he was a Miler, but he found a silver lining during the coronavirus pandemic. With most races canceled, he focused his attention on the event, and now he has an age group world record to show for it.
King, 61, of Boulder, Colorado, ran 4:49.08 on August 29 at South Carolina TrackFest in Columbia, bettering the previous world record for the 60–64 age group, 4:51.85, set by Tony McManus of New Zealand in 2012. The previous American record was 4:53.01, run by Nolan Shaheed, also in 2012.
Behind two pacers—Jackson Neff and John Minen, who earlier in the meet had run the Open Mile—King clicked off 72-second laps, going hard from the gun.
"I felt fantastic at that pace," he told Runner's World. "I'd lose to all sorts of people if it was a slower race with a kick. But if I go all out at a pace I can sustain for one Mile, and run evenly, I'm fast at that distance."
The key for King, as it is for many Masters athletes, was figuring out how to keep injuries at bay. He suffered with plantar fasciitis from age 40 until he had a Tenex procedure when he was 58. Once his plantar felt better, everything else started to hurt—especially his calves and hamstrings.
For the better part of two decades, King could rarely string together more than two months of high-level training. He had flashes of brilliance—he won his age group at World Masters Athletics cross country in 2011 and the USA Club Cross Country Championships in 2015—but only recently has he found a training regimen that keeps him consistently healthy.
King, who retired in 2017 after selling a video and phone conferencing company he founded with his brother, doesn't have to fit his training around a typical workweek. So he runs on an eight-day schedule, every other day, with vigorous cross-training on the in-between days. Every fourth day is a hard run. So it's cross-train / easy run / cross-train / hard run. Repeat.
Continue reading at: runnersworld.com
Age Group Masters outdoor Mile world records HERE.
PHOTO CREDIT: Dave Albo