How Up-And-Coming Runner Hannah Fields Found Her Groove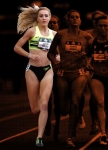 July 15, 2017
"She's starting to show she can definitely be a force in the 1500."
Sarah Barker, Deadspin.com
Carolyn Helker's daughter, Hannah, is quite competitive. She gets that from her father, Eddy. When Hannah was young, her dad coached her soccer team and challenged the kids to juggle a soccer ball 100 times. Knob-kneed and determined, Hannah did it. Then he sweetened the deal, saying he'd pay anyone who could juggle the ball 1,000 times $100. "He should have known better," Carolyn says now.
Carolyn and Eddy's oldest child, Hannah Fields, nee Helker, now 24, still will not back down from a challenge. It's not about soccer or a hundred dollars; she just does not want to lose. That competitive drive has powered Fields's journey from Edmond, Okla. to the top ranks of middle distance running, via the unlikely route of a small NAIA college.
In the span of three weeks this past June, she busted huge personal best times of 2:00.5 for 800 meters and 4:05.3 for 1500 meters, effectively hurdling from decent college runner to world-class athlete.
At 5-foot-11 with a winning combination of endurance and finishing turbo, she certainly has the infrastructure to be a top runner. But gifts like competitiveness and athletic talent, unfettered, can be self-destructive. "Being terrified of losing is not enjoyable and it's not sustainable," Fields said of the other side of that coin.
Continue reading at: http://deadspin.com