Invite-only Mile run in remembrance of Ryan Shay returns July 25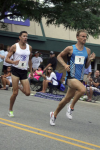 July 20, 2015
The Ryan Shay Mile is an "invite-only" event on a straight, flat, fast and certified Mile course. The professional Mile was the third stop on the inaugural Bring Back the Mile Grand Prix Tour 2014.
From PetosKeyNews.com
For the last eight years a one Mile run down Bridge Street honors a local boy who made the community proud.
The 8th invite-only Ryan Shay Mile Run will begin at 10:30am on Saturday, July 25, following the Jeff Drenth Memorial Footraces and prior to the Venetian Festival parade. There are two separate races, male and female, and the competitors in the Shay Mile are 10-20 elite distance runners who will race one Mile for a total of $4000 in prize money — 1st place is $1000, 2nd place is $500 and 3rd place is $250.
"The racers will run a straight Mile down Charlevoix's main street and finish in front of thousands of fans awaiting the start of the Venetian Festival parade," said Matt Peterson who serves as event organizer of both the Jeff Drenth and Ryan Shay memorial races."
Continue reading at: petoskeynews.com