Jenny Simpson relishing London return for World Championships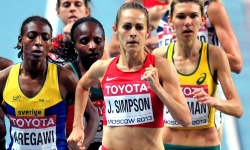 July 30, 2017
"Because I was disappointed with my 2012 Olympics, I'm looking forward to returning to the stadium and possibly getting some personal redemption."
By Stuart Weir, Athletics Weekly
At 1500m, Jenny Simpson won the world title in 2011, plus world silver in 2013 and Olympic bronze in 2016 – and she feels London is an appropriate place for her to try to win another global medal in the metric Mile.
"Speaking as a 1500m runner, you have to recognise that some of the richest legacy and heritage of our event comes out of the UK," she says. "I'm thinking of people like Steve Ovett and Seb Coe and those who came before us and really made the Mile, the 1500m and 800m, to me, the most exciting spectator events in track and field."
The American adds: "A lot of other British women have contributed to that legacy in a really meaningful way – like Laura Muir, Hannah England and Lisa Dobriskey."
Simpson competed in the 2012 Olympics as reigning world champion but failed to do herself justice, going out in the semi-finals.
Continue reading at: www.athleticksweekly.com