Legendary Feat: Steve Spence Records Sub-5:00 Mile for 41st Consecutive Year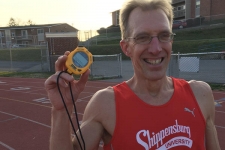 May 18, 2016
"As an elite athlete, you push the limits of what the human body is capable of doing and hopefully inspire people along the way. I am still doing that to some extent, but in a different way. I am still hoping to inspire others to a healthy lifestyle and to go after their goals."
By Michael Sandrock, Competitor.com
When Steve Spence was a ninth-grader at Lower Dauphin High School in Hummelstown, Pa., he went out for cross country and, during a race, ran a Mile in under 5 minutes. No big deal, lots of teenagers do that.
No one, however, has done what Spence accomplished May 11, when he ran a sub-5 minute Mile for the 41st consecutive year. Spence clocked 4:54.0 on the track at Shippensburg University of Pennsylvania, where he was a collegiate star and where he has been the head cross country coach since 1998, was a past head track coach, and is still the assistant track coach.
Spence, who turned 54 two days before his Mile, was paced by "Ship" assistant coach Matt Gillette, a past U.S. Olympic Marathon Trials qualifier with a half-marathon personal best of 1:04:37. Spence was cheered on by roughly 40 of his student athletes, who had an easy training day before traveling to the Pennsylvania State Athletic Conference championships at Mansfield University the next day.
Spence said he felt strong the entire way, running the Mile aerobically without having to over-exert himself to reach his goal.
Continue reading at: running.competitor.com