Leo Manzano hopes to repeat Olympic success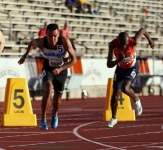 May 04, 2016
The 2012 Olympic 1500 meter silver medalist currently spends about six hours training daily, but most of that time is spent away from the track... where the focus is on recovery, getting massages and taking ice baths to keep him going each day.
By Jacob Martella, The Daily Texan
Leo Manzano took his place at the starting blocks before the 800 meter race at the Texas Relays.
The 2012 Olympic silver medalist dominated the event the past three years, setting the Texas Relays record in each year. As he readied himself for the race, he expected a fourth.
But when the starting gun fired and the runners merged into the inside of the track after 50 meters, Manzano wasn't first. Or second. Or third.
He was last.
Another 750 meters later, he crossed the finish line in sixth with a time of 1:49.92, over three seconds off his record pace a year earlier.
But Manzano, now 31, wasn't worried about the slow time in an Olympic year.
"The main goal is [the races] in July and August," Manzano said. "When you do lose your race, sometimes it's good because you learn you have to continue working. It keeps it interesting."
Continue reading at: www.dailytexanonline.com