Lipari, Domanic Win 8th Fleet Feet Liberty Mile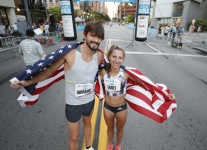 August 09, 2019
Downtown Pittsburgh's only evening road race draws 1,000-plus participants; $28,200 prize purse overall; third stop on the BBTM Grand Prix Tour 2019
From P3R
PITTSBURGH – At the 8th Fleet Feet Liberty Mile on Friday evening in downtown Pittsburgh, the pro races ended with two thrilling finishes as Emily Lipari of Poulsbo, WA and defending champion Robert Domanic of Charlottesville, VA put on closing bursts to edge their respective fields, clocking 4 minutes, 34 seconds and 4:08, respectively.
In the women's race, the pack stayed together through the first half of the race until they turned from 11th Street onto Liberty Avenue near the 2:18 mark. That's when Jessica Harris and Rachel Schneider made their move to the front. With less than 300 meters to go, Lipari, 26, put on the speed and charged to the front to break the tape two seconds before Harris, the runner-up, and Eleanor Fulton who finished third, also in 4:36.
"I love racing in Pittsburgh," said Lipari, who was also the 2017 Liberty Mile champion. "I have had a rough season, so it felt really good to come back and win tonight. This race is special to me."

In a championship-style tactical race, none of the men wanted to push the pace as the pack hit the 3/4 mile mark in 3:10. The entire field held back until the last 200 meters, but in the end, it was Domanic, 24, who unleashed a kick to break the tape first, followed by Dan Herrera (4:09) and Patrick Casey (4:09), who placed second and third place, respectively.

"It feels great to defend my title in Pittsburgh," Domanic said. "The city always shows up for this race and brings great energy. I can't wait to come back."

The Fleet Feet Liberty Mile, downtown Pittsburgh's only evening road race, has been repeatedly named "one of America's most iconic races" by Runner's World. The event showcased more than 1,100 runners from a variety of fitness levels, from first-time runners to some of America's fastest athletes. The event attracted top American runners with a $28,200 in guaranteed prize money, one of the largest Mile prize purses in the country. Lipari and Domanic earned $5000 each as the Fleet Feet Liberty Mile champions.
The Masters champions, 40 & older, were Joey Zins, 40, of Export, PA, and Amy Crain, 41, of Pittsburgh, clocking 4:46 and 5:30, respectively; each took home $500.

As part of P3R's mission to inspire any and all to run, the event offered a Virtual Mile for the first time, encouraging all those unable to make it to downtown Pittsburgh to participate wherever they choose. Additionally, the event hosted its largest-ever kids' field, with nearly 20% of participants aged 17 or younger.
The 8th edition was also the third stop on the BBTM Grand Prix Tour 2019 presented by Running Warehouse, featuring 5 top U.S. events and offering more than $110,000 in guaranteed prize money. After three races, Tripp Hurt and Heather Kampf sit atop the Tour standings with 18 points each. The next Tour 2019 stop is the Aetna Falmouth Elite Mile on Saturday evening, August 17 in Falmouth, MA.
8th Fleet Feet Liberty Mile
BBTM Grand Prix Tour 2019 presented by Running Warehouse, third stop
Pittsburgh, PA, Friday evening, August 9, 2019
MEN
1) Robert Domanic (VA), 4:08, $5000
2) Dan Herrera (LA), 4:09, $3000
3) Patrick Casey (AZ), 4:09, $2000
4) Riley Masters (CO), 4:09, $1000
5) Brett Meyer (KS), 4:10, $500
6) Jake Edwards (OH), 4:12
7) Mac Fleet (CA), 4:12
8) Brandon Hudgins (NC), 4:12
9) Bryce Richards (IL), 4:22
WOMEN
1) Emily Lipari (WA), 4:34, $5000
2) Jessica Harris (MD), 4:36, $3000
3) Eleanor Fulton (OR), 4:36, $2000
4) Rachel Schneider (AZ), 4:36, $1000
5) Heather Kampf (MN), 4:37, $500
6) Taryn Rawlings (OR), 4:40
7) Anna Shields (PA), 4:46
8) Alex Wilson (IA), 4:51
9) Therese Haiss (CA), 4:54
For complete results and more, go to: LibertyMile.org