Marcus Dickson goes the distance for his White River team | Track and Field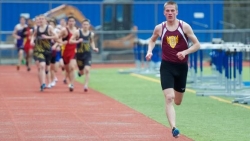 May 23, 2012
One of the nation's fastest high-school distance runners, Dickson will enter four events at the state meet, hoping to carry his team to a title.
By Mason Kelley, Seattle Times
BUCKLEY, Wash. - On the way through Buckley there is a sign for White River High School. It is just off the side of the road on State Route 410.
Ivy grows up the metal pole, stopping at a smaller sign under the main marquee. The words STATE CHAMPIONS are printed in gold against a maroon background.
Two teams are listed underneath — the Hornets' 1973 boys basketball team and the 1995 wrestling team.
White River distance runner Marcus Dickson would like to add a third name this week during the Class 2A state track and field championships, which start Thursday at Mount Tahoma High School.
The talented senior will take on four grueling events — the 800 meters, 1,600, 3,200 and 1,600 relay — sacrificing individual goals for team success.
Continue reading at seattletimes.com