Mary Decker Slaney still satisfies competitive cravings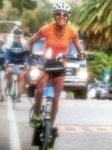 June 19, 2015
For the past three years, Slaney has competed in the World Championships of Elliptical Cycling at Palomar Mountain near San Diego, improving her time each year. She'll be entered again in this year's competition on Oct. 17.
By Kerry Eggers, Portland Tribune
The world still moves quickly for Mile legend Mary Decker Slaney, but with a decidedly different mode of operation.
"She hasn't changed any," says her husband, Richard Slaney. And in a way, he's right.
At 56, Mary, America's greatest female middle distance runner ever, still possesses the drive that carried her to world distance running records three decades ago. Now, though, she gets her kicks riding something called an "ElliptiGO."
It's an elliptical bicycle that, as the advertisement goes, "delivers a high-performance workout experience that closely mimics running outdoors while eliminating the impact."
Mary is hooked.
Continue reading at: portlandtribune.com