Matthew Centrowitz Chases Third World Championships Medal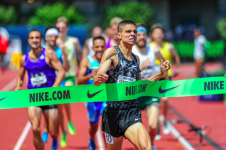 August 18, 2015
After 1500-meter bronze in 2011 and silver in 2013, he wants gold in Beijing.
By Peter Gambaccini, Runner's World
Matthew Centrowitz made his international breakthrough in the 1500 with a bronze-medal performance at the 2011 IAAF World Championships, and improved to the silver medal at the 2013 championships. In 2015, "of course I am aiming for gold," he told Runner's World Newswire via email as he prepared to compete at the world championships in Beijing.
After his last European race prior to the championships, a Stockholm 1500 on July 30, Centrowitz flew to Japan for a USATF training camp to make his final preparations. "I think I am good," he said last week. "Right now it is just topping up my endurance, strength and speed." The first round of the 1500 in Beijing will be run on August 27.
Centrowitz, who finished fourth at the 2012 Olympics, is an excellent championship racer. At 25, he's also getting faster. In the indoor season, his dominant 2:49.47 opening 1200-meter leg lifted his American foursome to the distance medley world record, he just missed the American 1000-meter record, and he won the Wanamaker Mile at the Millrose Games in 3:51.35.
Conntinue reading at: runnersworld.com